game news Is Xbox Series X|S more popular than PS5? In the UK, Microsoft's machine gets a phenomenal score
If sales of the PlayStation 5 skyrocketed at the time of the machine's launch, the latter seems to be a bit buoyant lately, unlike the Xbox Series X|S which, more than ever, is in great shape. In any case, this is revealed by the analysis company GfK, which recently focused on console sales in the United Kingdom.
A big step for Xbox Series X|S! A bit for the competition
As always, the three leading consoles in the market are fighting for the first place on the podium of the best sellers in a territory. And while PlayStation 5 and Nintendo Switch are the best sellers overall, in the UK, Xbox Series X|S has doubled in popularity month-on-month over the last few months of September. In fact, thanks to data shared by the GfK company, we learned that Xbox Series X|S sales are up a significant 104% since August. Aside from the fact that the machine is gaining a larger place in the hearts of gamers, put it into perspective and note that it started from much further afield than its Sony and Nintendo-designed counterparts.
Despite the efforts of the Microsoft machine, on British soil, the PlayStation 5 is still the best-selling console. The latter, however, had a timid increase from one month to another amounting to only 9%. The machine now has over two million players in the UK.
Finally, surprisingly enough, the least popular console in this territory during the month of September was the Nintendo Switch. She is in third place. Despite everything, you are entitled to a 44% increase in sales for the month. We owe this good score in particular to the release of Splatoon 3 in recent days.
In total, no less than 176,000 machines sold in the United Kingdom during the month of September, which represents an increase of 41% compared to September 2021. Regardless, the scores drop, as overall console sales since the beginning of the year are 35% lower than last year in the same period.
The best games in the UK, with a digital edge
In addition to a point on the sales of the machines, GfK also took the opportunity to expand on those of games in this same territory. During the month of September, therefore, 3.17 million games were sold in the UK. In other words, we are facing an 83% increase in sales compared to August, but a 6% drop compared to September 2021.
To share with you other data, keep in mind that dematerialized sales are the most popular in the territory, with a total of 2.2 million digital games sold compared to 957,000 games in physical format. A third of the 3.17 million sales are made by FIFA 22.
Top 10 best sellers in the UK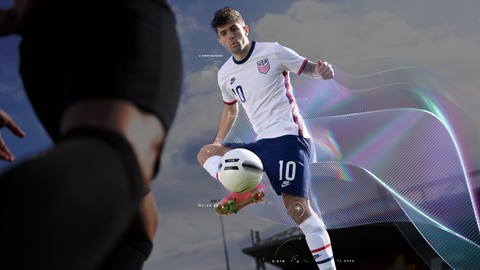 ---