DASTRI is an eco-organization authorized by the State to organize the collection and treatment of sharps healthcare waste with risk of infection from patients undergoing self-treatment and users of diagnostic self-tests. With the advent of connected medical devices, the eco-organization has recently broadened its scope.
Extended Producer Responsibility
The DASTRI eco-organization was created in 2012 as part of the Extended Producer Responsibility (REP) sectors. These legally oblige manufacturers to take care of the waste at the end of the useful life of some of their products (batteries, paints, tires, unused medicines, etc.). Companies can choose to take care of this themselves or fund an approved green organization.
The DASTRI circuit is the only circuit approved by the State for the sector of "waste from care activities with a perforating risk of infection of patients in self-treatment". In France, it is estimated that there are 1.8 million people in self-treatment, mainly for diabetes.
Distribution, collection and processing
Through a network of almost 20,000 pharmacies in France and abroad, the organization provides containers that patients fill and then return to the pharmacy. In 2021, DASTRI distributed 4.4 million boxes of needles, reaching a total of almost 23 million since the creation of the sector. The boxes are single-use yellow plastic with a green lid.
DASTRI then organizes the collection of the boxes, then the treatment of the waste by burial or incineration, with or without pre-treatment by disinfection. The service is free for pharmacies and patients. The eco-organization carries out more than 70,000 collections per year, and reaches a collection rate of 82%.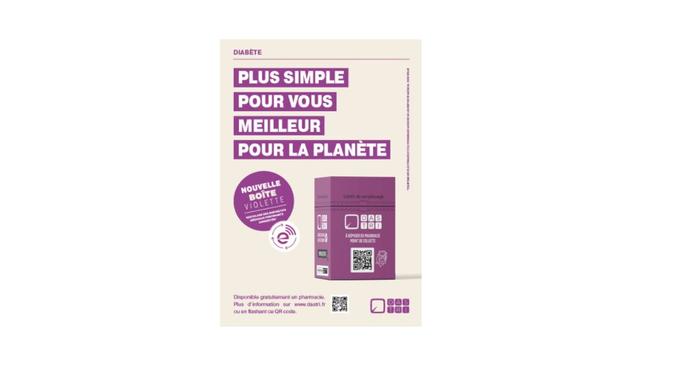 A new challenge for DASTRI: Connected drilling medical devices
As a result of a real technological advance, connected medical devices significantly improve the daily life of thousands of people and the management of their pathology, in particular diabetes. But once used, they become DASRIe (Waste from Infectious Risk Care Activities with electronics) for which there was not yet a national collective recycling solution.
It is already done since DASTRI launched a new collection circuit on March 22, 2022, after five years of experimentation involving nearly 7,000 volunteer pharmacies nationwide. A new purple box, intended for people equipped with connected piercing medical devices, is now available free of charge in pharmacies. It will allow interested persons to direct their used devices to a separation site for recycling located in France. Together, pharmacists and patients thus contribute to reducing the environmental impact of DASRIe.
---
Content designed and proposed by L'Agence Delta.
The editorial team of Le Figaro was not involved in the production of this article.
---
.